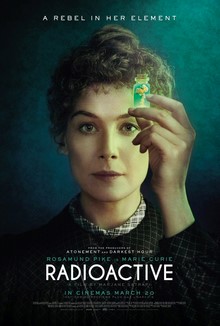 MARIE CURIE: RADIOACTIVE
Special Film Session and Discussion on the occasion of International Women`s Day with
KAMERA KINO HEIDELBERG
Wednesday,  08 March 2023 at 7pm
RADIOACTIVE tells the story of pioneering scientist Marie Curie through her extraordinary life and her enduring legacies – the passionate partnerships, her shining scientific breakthroughs, and the darker consequences that followed.
Trailer: https://www.youtube.com/watch?v=BnVIdxTxXCM
The film is going to be in English with German subtitles.
Film tickets are free of charge for all interested students and employees of the Faculty for Physics and Astronomy. As tickets are limited, prior registration is required: https://forms.gle/pA1zjSyVB8hFsZf87
Following the screening of the film, we invite you to stay for a glass of champagne and a joint discussion on the question "The importance of females role models in STEM" with invited guests.
We would be very happy to see many of you there – this event is not meant to be attended by women only 🙂